A New Fence for the Old Monument
October 12, 2004 -- Organized by Viorel Lascu, our project manager on the ground in Oradea (the bearded fellow pictured below) a meeting was held to finalize the design and cost estimate for a new fence to replace the deteriorating chain link fence surrounding the Monument to Deportees erected by Jewish survivors in 1946. The monument itself was restored and rededicated in late 2003. The meeting in the offices of the Jewish Community Headquarters, on the grounds of the Orthodox Synagogue, was attended by Peter Stern, manager of properties for the Jewish Community; Laci Freund, a leader and ex-president of the Jewish Community; and the head of the design and fabrication firm responsible for constructing and erecting the fence.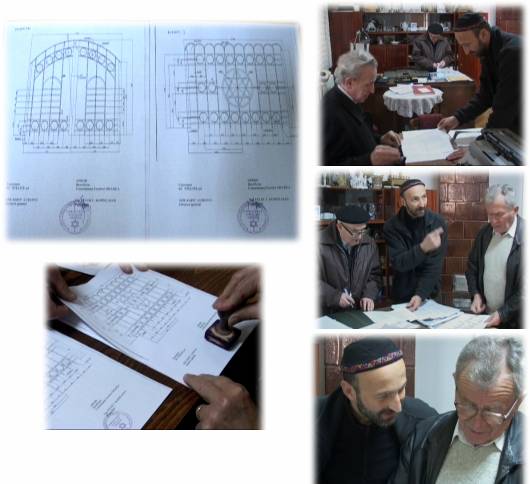 January 24, 2005 - Progress on the fabrication of the new fence. It will be installed in the next few weeks.